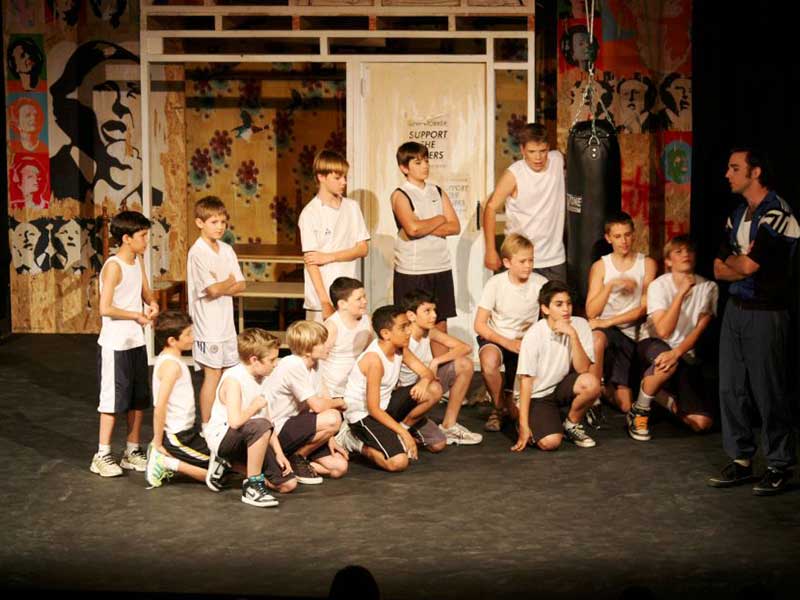 Billy Elliot (21st-23rd March 2013)
Many people have seen Billy Elliot the Musical, many more have seen the film, but no one has seen the story told quite like this! As always, I have so many thanks to give to people without whom this production would never have been possible: Mrs Helen for coordinating ticket sales; Mrs Bailey and Mrs Norcott for the exciting and varied choreography; Mr Tony for his final Foley's set; Mr Andy for his fantastic work with the band; Miss Henderson and Miss Smylie for set design and the coordination of hair, make-up and costume and to Mr Finney for his support and enthusiasm throughout the process.
Billy Elliot tells the story of a boy who wants to dance despite his upbringing. The son of a widowed miner who is out on strike, he is sent to boxing lessons but when he joins in with a ballet class he discovers a natural talent. Through the trials and tribulations of the early 1980's miners' strikes, Billy battles against an unsupportive family and his own self-doubts.
Although set almost 30 years ago there are, as always, many parallels that can be drawn. A family struggling against economic uncertainty; the challenges a young person faces with family, friends and relationships and the struggle to achieve our desires in life despite the obstacles that appear before us, are things that all of us can recognise.The biggest thanks of all must go to the artists, musicians, crew and cast who have made this production what it is.I hope you enjoy this evening's performance.PostscriptFour years ago, I made a promise that no two Foley's productions would be the same. However, that has not been entirely true. What do our productions of Romeo & Juliet, Little Shop of Horrors, The King and I and Billy Elliot have in common? The answer is simple – a very dedicated, hardworking and talented team of people, both on stage and behind the scenes, giving up hours of their time to produce what you see on stage. Thank you to everyone who I have worked with over the last four years – you've been brilliant! (And yes, that is a compliment.)