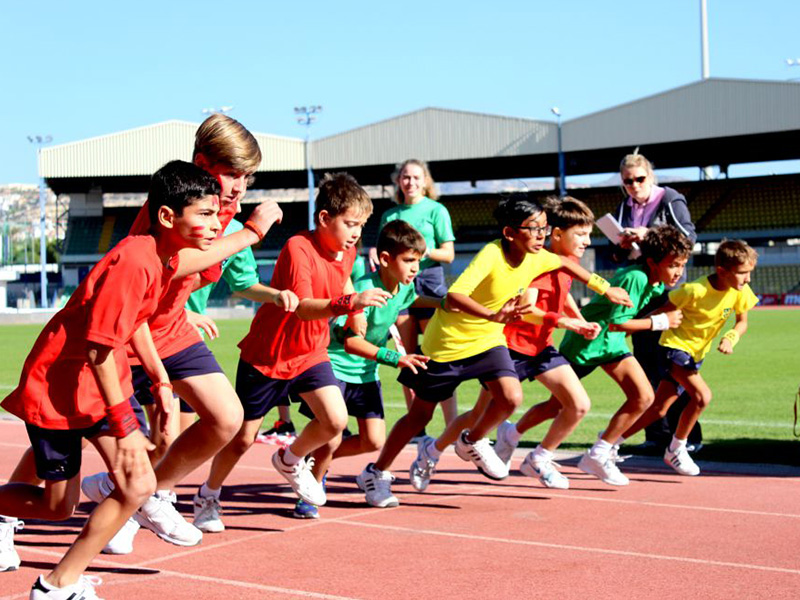 Sports Day 2016
Friday 4th November saw our annual Sports Day at Tsirion Stadium – Mr Relton's favourite day of the year!I appreciate the fact I more or less repeat myself every year and not wishing to sound like a broken record (remember those?) this was a brilliant Sports Day. Like a perfect homemade apple pie, all the ingredients mixed together in perfect harmony. Firstly, the weather was idyllic, clear blue skies, yet not ridiculously hot. Relative coolness also abounded in the commentary box with Mr Bailey enjoying the spectacle with calm authority and the staff, parent and pupil helpers carrying out their specific roles with enthusiastic efficiency. Timers, recorders, rule enforcers, line judges, musicians, house captains, first aiders etc, etc, all came together with a huge dose of encouragement and respect for the athletic prowess, sportsmanship and general positive vibe encompassing the event. Additionally, even though the 18,500 capacity stadium wasn't quite full, there was a healthy sprinkling of vocal parents, siblings, ex-pupils, ground staff and athletic scouts/coaches offering their much appreciated support to the 350+ contestants.Thirdly, there were very few injuries, which is always a pleasing sign with the indomitable first aid queen, Mrs Jane, remaining fairly redundant only having to deal with the inevitable bout of short-lived exhaustion, bruised egos and hurt pride.Finally, of course, an excellent Sports Day can only take place with healthy competition. Irrespective of the event – hurdle relay, fling sock, cone hold, tug o' war, 1500m, high jump, long jump, 100m etc, etc, it was pleasing to see everyone giving their all in the quest to maximise their performances for themselves and ultimately to accumulate points for their respective houses. At the higher end of the spectrum some long standing records (even one or two as old as myself, 30 years or so) were smashed to pieces. As you would expect with an event so well established it took some amazing, phenomenal performances to eclipse all the hundreds of competitors that went before. Congratulations to the following:
| | | | |
| --- | --- | --- | --- |
| Name | Surname | Class/Form | New Record |
| Sami Samin | Boys 800m | Prep | 2.45.53 |
| Stella Anastasi | Girls High Jump | F1 | 1.41m |
| Vasyl Koval | Boys 200m | F3 | 24.65 |
| Vasyl Koval | Boys 400m | F3 | 58.42 |
| Madeleine Mudd | Senior Girls 200m | U6 | 29.12 |
| Madeleine Mudd | Senior Girls 100m | U6 | 13.29 |
| Alexander Geddes | Senior Boys High Jump | U6 | 1.78m |
Regarding the overall result, I couldn't have really asked for more. With the future generation of young Red Devils (Amazon) taking the Junior trophy, the much sought after Senior trophy was secured by the Green Machine (Theseus) and the highly entertaining 4 x 100m Relay competition trophy shared by the Yellow Perils (Hercules) and Amazon.Roll on 2017!
Colin Relton
15th November 2016